MMI Employers of the Year
Each year MMI applauds the successes of the people we serve and thanks the employers that help make their successes possible. At MMI's annual meeting on December 4th, two area employers, one are community partner, and one partner that went above and beyond were honored for their contributions.

Businesses play a very important part in the training we provide. Each year, MMI recognizes employers who have had considerable involvement by empowering the individual abilities of those with barriers to employment.  This In addition to helping people work, MMI also supports people to lead integrated lives in their communities in other ways. Whether the individual is developing life skills or building a social network, the businesses, organizations, and members of the community play a critical role. This year, for the first time, MMI will recognize an outstanding community partner who has supported the people we serve to become more independent.. Employers & Community Partner of the Year honorees are:

Manufacturing Employer of the Year – 2017
The Rogers Group 

Our association with The Rogers Group began in 1993, when MMI began producing Stageright Pivot Pins for their portable staging line.   Soon GYP clips were added and then Marker board Clips for hanging drywall on steel studs – all of which have provided training opportunities for people served through MMI's Employment Connections Program.     Since that time, The Rogers group has expanded which has led to opportunities in other segments of their corporation, including decals for athletic equipment and most recently, individual placement opportunities at their Filcon operation.  This long term relationship and expansion of opportunities demonstrates their dedication to the people we serve and the work that MMI does.
Community Employment Employer of the Year – 2017
JcPenny's in Greenville

Since 2006, a 3-4 person crew has worked at JCPenny's in Greenville to assure the store is clean and ready for customers. The store has won several awards from the Corporate Office for its appearance and we are pleased to be a part of the team that keeps the  building looking great. This community work site provides an opportunity for persons served in Montcalm county to learn on the job skills that can lead them to community integrated employment.
 MMI and the people we serve appreciate the commitment of JCPenney's to ensuring the success of of the program participants, and to their commitment to including people with disabilities as part of their diverse workplace. 
Community Partner of the Year – 2017
Veterans Memorial Library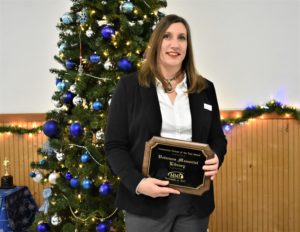 MMI has had a partnership with Veterans Memorial Library since 2002 when we began the transition of encourgaig the people we serve to explore their communities.  Over the past 15 years MMI and a Veterans Memorial Library have developed a long term relationship through our Community Connections Program.  The staff at Veterans Memorial Library has always been extremely friendly, willing to work with any needs we have and have been a perfect  example of what good things can happen when the community welcomes individuals with disabilities and promotes. We appreciate the service the library provides to our community and we're grateful for their ongoing support.
Above and Beyond of the Year – 2017
Karen Pearson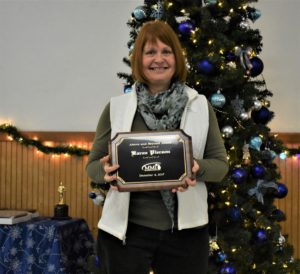 Karen is an Occupational Therapist with Community Mental Health of Central Michigan.  On a daily basis, Karen demonstrates what it means to go above and beyond. Karen works with some of the most vulnerable and medically fragile people we serve. She goes out of her way to design, improve, adapt, and fix equipment and jigs that are helpful in making sure people can gain and maintain mobility and range of motion. Karen has a wonderful rapport with the persons served and staff here at MMI.  She takes time to get to know people and how best to support their individual needs. It is clear that Karen truly cares for people and demonstrates it in her daily interactions.  She has a positive and upbeat personality and is an excellent problem solver who is readily open to questions from our staff.  Karen is a great advocate and is an active participant in the development of the individual Person Centered Plans. Karen goes out of her way to make sure that everyone has what they need.
---
Manufacturing Employer of the Year – 2016
Packaging Corporation of America (PCA)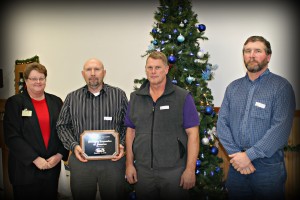 Our association with PCA began in 2010, when MMI began producing the Symmetry Medical partition.  This contract provided a great deal of work for people served by MMI.  But PCA is more than a manufacturing partner. They are a community employer as well. PCA also has crews working onsite at their plant in Edmore. It began with one crew covering one shift and has now expanded to six crews covering all three shifts.
 Recently MMI partnered with PCA to complete assembly of boxes for Fathead – a manufacturer of large vinyl wall clings. The contract was fast and furious, but the sense of pride and accomplishment felt by the people we serve in learning and completing new work was worth every minute. This contract exemplified the range of manufacturing skills that the people we serve have been able to develop in connection with this contract and their partnership helps us to achieve our mission. The people we serve value the opportunity to earn a paycheck and to complete meaningful work.
Community Employment Employer of the Year – 2016
Central Michigan University (CMU)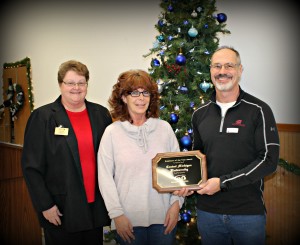 MMI began working with CMU doing grounds maintenance in 1988; almost 30 years ago.  Our crew works April thru November to keep the CMU grounds litter and trash free. CMU has also hired crews to:
    –  Prepare for commencement ceremonies        
    –  Clean up after home football games               
    –  Deliver the CM Life newspapers (1999)       
    –  Prepare batteries for safe disposal       
                                                              –  Provide curbside recycling for their family housing units       
                                                               –  Sort recycling and compostable waste at the football stadium       
                                                               –  Provide on-demand snow shoveling
Over the years CMU has provided the opportunity for countless individuals to gain vocational skills, independence, and be part of their community. We appreciate their commitment to ensuring the success of those working there, their partnership in helping people develop skills, and their commitment to including people with disabilities as part of their diverse workforce .  We look forward to continued partnership for many more years.
Community Partner of the Year – 2016
North Woods Nursing Center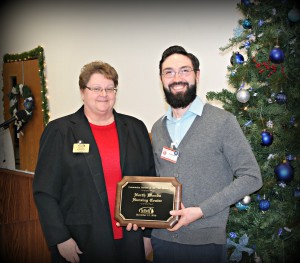 MMI has had a partnership with North Woods Nursing Center since 2003.  Over the past 13 years, we have developed a long term relationship through our Community Connections program. The staff and residents at North Woods know the people we serve by name. When our group arrives, they are greeted with a warm smiles and welcoming conversation. Persons served feel very welcomed and enjoy sharing a variety of activities. The activities and level of involvement continues to grow, but whether it is Carnival Day or Glamour Shots, we are involved and included.  On behalf of the people we serve, we would like to thank you for all your involvement and for making a difference in so many lives.