ANNUAL ACHIEVEMENT AWARDS
MMI Annual Achievement Awards – 2022
McCollom-McFarlane Achievement Award

In 1994, The MMI Board of Directors established the McCollom-McFarlane award in tribute to two previous board members. The award is to honor a person from each of MMI's service areas. Nominations are collected, then based on a vote of their peers, the McCollom-McFarlane winners are chosen. From those three honorees, an overall winner is selected by MMI's CEO.
Paige Zimmerman
Mt. Pleasant – Overall Winner
Paige Zimmerman began working with the community connections team at MMI in 2017 as a student at Mt. Pleasant Public School, and she was resolute in her goals. As she mapped out her path, Paige worked to grow her skills and confidence with budgeting, saving, and managing a home. She learned the importance of internet safety and became a strong self-advocate. Paige then began working with the Youth Services Team. She completed GOALS training and smoothly transitioned to work with the tools she gained through MIPower.
In 2020, she found herself with extra time on her hands. Her support system rallied around her, and she got to work. She spent time crafting and developed a knack for soapmaking. She soon saw possibilities and shifted her hobby to a business idea.
Paige used time with her community coach to begin laying out her plans and brainstorming a business name.
While feeding the ducks together one afternoon at the park, the name "White Duck Soap" was born.
She raised the start-up funds she needed, then began introducing herself and her product to local businesses.
Paige has gained success locally and is beginning to expand her reach, recently visiting the Grand Traverse Resort to showcase her business in a microenterprise mall.
She showed confidence and professionalism during the event. She successfully achieved her sales goals, made new business connections, and some new friends.
Paige has shown that she has the ability and insight to succeed. There is no doubt she will achieve her dreams.
Thomas Edmonds
Clare County
Thomas Edmonds began participating in Community Connections at MMI in 2015 as he transitioned from the Clare Gladwin Area School. Thomas had long-term goals and was setting himself up for success. He began by finding strategies to support him in getting more involved in his community. With support from MMI staff, Thomas identified several techniques he began using right away to focus on the wonder and not the worry. He then set his sights on making connections and experiencing new things. He has become open to any opportunity to connect with new people or places. He has worked hard to broaden his horizons by participating in new experiences and sometimes falling outside his comfort zone. Over the last year, Thomas has been a part of large community concerts, shoots for music videos, a golf tournament and so much more. He has become clear in his choices and does not hesitate to advocate for himself. When Thomas had the opportunity to attend a night of music in the park. He chose the artist he wanted to see and approached her after the show to say hi and grab an autograph. This is a micro example of Thomas's confidence growing as he seeks new adventures. He is an active participant in his community and beyond. We are honored to be a part of his journey.
Curtis Carskadon
Southern Operations 
Curtis on YouTube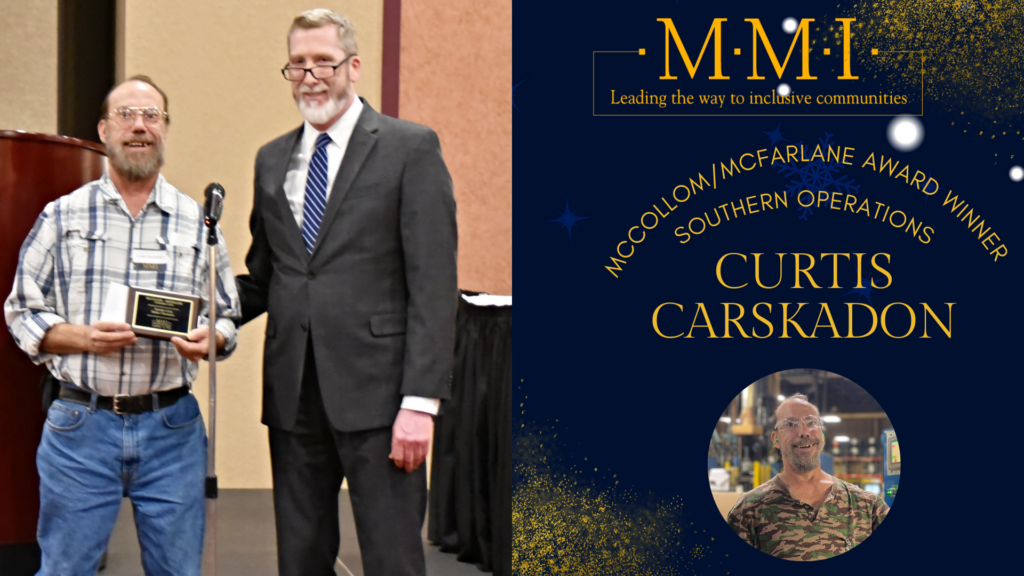 Curtis Carskadon is a person with incredible ambition and determination.
He began working with Employment Connections in 2017 Through MMI's Southern Operations branch. He wanted to sharpen his skills and explore his options. He was clear from the start that his goal was to gain independent employment. Curtis expressed interest in manufacturing and was anxious to train with the team at Hutchinson Aerospace. He was fully committed to his training and hit the ground running. Curtis has connected with the staff at Hutchinson and is well-known throughout the plant. He has a positive attitude that shows from the moment you meet him. He quickly greets everyone with a smile and is happy to answer a question or explain a process. Curtis always looks for ways to improve his skills and make new connections, always taking on a challenge.
He has mastered complicated presses and machinery and keeps safety his top priority. He has increased his weekly work hours and is reaching his goals. He doesn't miss a beat on the job and doesn't miss a day, either.
Curtis's mindset combines discipline, strength, confidence, and ambition. There is no doubt that he will continue to grow and reach his goals