ANNUAL ACHIEVEMENT AWARDS
MMI Annual Achievement Awards – 2021
McCollom-McFarlane Achievement Award

In 1994, The MMI Board of Directors established the McCollom-McFarlane award in tribute to two previous board members. The award is to honor a person from each of MMI's service areas. Nominations are collected, then based on a vote of their peers, the McCollom-McFarlane winners are chosen. From those three honorees, an overall winner is selected by MMI's CEO.
Matthew Kelley



Southern Operations – Overall Winner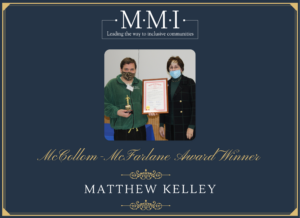 Matt became a part of MMI in 2011.
He takes part in both Community Connections Services and Employment Connection Services. Matt has shown consistency in reaching his goals and works diligently to achieve personal success.
Matt identified some areas that he wanted to improve and worked with support from his 1:1 Coach to set goals that would help him ultimately attain success.
He lives in his own apartment and has established priorities and routines that help him stay ahead of his household maintenance. He also values a healthy lifestyle and has created a schedule that allows him to exercise almost daily.  He is also learning new recipes and enjoys shopping for healthy ingredients.
Matt has gained knowledge in personal finance and now successfully executes a monthly budget.
Community is important to Matt, and he genuinely enjoys giving back. He volunteers his time to clean up local roads, stock shelves at the local food pantry, and also spend time helping with maintenance at a local assisted living community.  If he can lend a hand, he always will.
He demonstrates responsibility and dependability on his Employment Connections teams. He has worked hard to become an integral member of his teams. He often offers a different perspective that helps support his peers in learning the new processes.
Matt has identified his next step. He is seeking an independent position and is now interviewing for several openings in his area.  He has taken the proper steps and set himself up for success. We can't wait to see what's next.
Gary Weaver



Clare County
Gary Weaver takes part in both Community Connections and Employment Connections at MMI in Clare. He has shown dedication and commitment to achieving his goals.
Gary spends time volunteering at both the Mid Michigan Community Action Agency and the Farwell Soup Kitchen every week.  He has made lasting connections with the staff there, who say Gary brightens their day and they love talking with him.  Gary has gained considerable skills in employment connections at MMI and looks forward to finding an independent position in the future. He is proactively taking part in interview training and is ready to make a great impression on his future employer.  Gary has a heart of gold and loves to make people smile. He has made remarkable headway on some of his personal goals over the last year and has become more independent and confident. In Community Connections, He takes part in wood-shop, bowling, and coffee in conversation, all in Clare, supporting him in developing a dynamic network in his community. Gary continues to set his sights higher and reach his goals. He will no doubt achieve his dreams.
Leon Yacks



Isabella Branch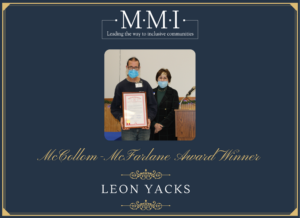 Leon Yacks is genuinely one of a kind. He has impressive determination and is a strong self-advocate. He has made outstanding personal achievements and continues to move up and on. Leon enjoys working with the Employment Connections Team in Mt. Pleasant and has made significant gains to achieve his goals.  His skills have increased, and his confidence has grown; he now encourages others and is always willing to share his background and knowledge. Leon supports his peers and celebrates the victories of the people he works with. He looks forward to his success and the success of his friends.
Leon is a well-known figure in his circle and has created a network in the community that supports his growth.  He can regularly be seen at a CMU game or talking about a good cigar.
Leon has clear priorities and a clear vision of what he wants to achieve—even overcoming obstacles to ultimately becoming a homeowner.
When Leon identified his passion and set his sights on an independent position, he took the steps needed to gain the necessary background knowledge to move forward if and when he had the opportunity. When offered an interview, he advocated for himself to gain the support of an Employment Specialist from MMI so that he could confidently interview. Leon has taken the proper steps and gained the necessary background to succeed.
He has shown incredible determination, persistence, and resilience in achieving his goals. We are anxious to see what's next.