ANNUAL ACHIEVEMENT AWARDS
MMI Annual Achievement Awards – 2020
McCollom-McFarlane Achievement Award

In 1994, The MMI Board of Directors established the McCollom-McFarlane award in tribute to two previous board members. The award is to honor a person from each of MMI's service areas. Nominations are collected, then based on a vote of their peers, the McCollom-McFarlane winners are chosen. From those three honorees, an overall winner is selected by MMI's CEO.
Austin B.



Isabella – Overall Winner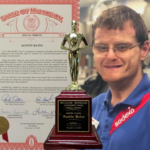 Austin became a part of MMI in 2014 as a student attending programs at our previous location on Jerome St in Alma. He had goals to finish his education and find a job that he loved. He excelled at his tasks and learned critical skills about time management and being a part of a team. Austin chose to continue working with the staff at MMI to gain new experience and skills. in 2018 he began as a participant in the Goals program. A program designed to meet students where they're at and help them to develop a better understanding of themselves and the work world. He attended every goals session with an open mind and a determination to truly understand what skills he needed to develop to be the best employee he could be. After completing the GOALS program, he continued. In 2019, he was chosen by counselors at Michigan Rehabilitation Services along with educators from the Gratiot Isabella RESD to be one of the first participants in the new MI-Power Program. Austin completed his education as well as the MI-Power program, where he learned hands on job specific skills, and immediately began filling out job applications. His first choice was, Sodexo at Alma College. We are proud to report that Austin has accepted a position with Sodexo and continues to thrive on the job. Austin has demonstrated tenacity and determination in completing his goals.
David R.



Clare County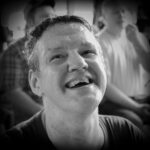 David participates in both Community Connections and Employment Connections at MMI. He has consistently reached his goals and continues to make progress on new ones. As soon as David was able to get back into his programs post-shutdown, he hit the ground running. David always enjoys working with the Employment Connections Team, especially the Recycling team in Clare. He is determined to gain the skills he needs to find an independent position in his community. He demonstrates responsibility and dependability on all of his teams. He has worked hard to become an integral member of the Recycling team. David's participation in the Community Connections program also gives him the opportunity to volunteer with other non-profits nearby. He has become a valuable member of the volunteer team at Mid-Michigan Community Action Agency, spending several days a week there to package commodities, then working to offload all those boxes into the cars of people in need in all types of weather. He is reaching his goals, learning new skills, and giving back to his community with his signature smile and enthusiasm.
Camille B.



Southern Operations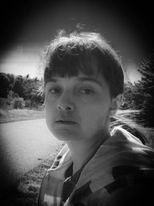 Camille has made phenomenal strides towards her goals this year. Camille typically uses alternate forms of communication, most recently learning to make independent choices on what or where she would like to explore in her community by choosing appropriate pictures. She has recently demonstrated huge progress in her ability to advocate for herself by also learning new signs and choosing appropriate verbal cues to express her needs and at times her expectations of her horse. Camille attends "Equest Center for Therapeutic Riding" with her Community Connections 1:1 Staff from MMI. She has shown unbelievable resilience and growth during her riding sessions. Even a fall couldn't stop her determination to succeed. Literally getting right back in the saddle the next week. She has been meeting her goals to become more self-sufficient and independent. She has gained the skills and confidence now to open car doors and use accessible entrances to buildings on her own, she independently enters the equest center now and prepares herself for her ride. as well as making personal gains and maintaining many aspects of her own daily care. She has overcome her fear of water and has learned crucial lifesaving skills to ensure she can continue to enjoy the pool. Camille enjoys spending time in her community and has been taking advantage of nearby parks and events. She enjoys a brisk walks in the park whenever she can. Camille continues to meet her goals and set her sights even further. She has shown an incredible amount of determination, persistence and resilience in achieving her goals we are anxious to see what's next.