Annual Community Awards
Each year MMI celebrates the accomplishments of the people we serve and gives thanks to our community partners who help drive us in our mission to create more inclusive communities. We are very proud of the accomplishments of the people participating in our programs and the relationships that we have with wonderful community partners. 
Business Partners of the Year – 2021
Soaring Eagle Waterpark & Casino


Inclusion refers to the sense of belonging that comes with knowing that you are listened to, heard, respected, and valued by your employer and peers as an individual. It means being able to embrace your sense of individuality and subtle differences. The Soaring Eagle Waterpark has genuinely achieved an inclusive workplace. 2021 was the second year they have hosted the MiPower work-based learning experience. Students who participate in The MiPower program gain industry-specific experience along with transferable skills and a work ethic that will follow them throughout their careers.
In the Summer of 2021, they also began hosting Summer Work Experiences. Students who participate in the Summer Work Experience programs gain essential skills and invaluable hands-on experience.
The Soaring Eagle Waterpark & Hotel has proven they are a prominent supporter of integrated, inclusive employment. They have hired 7 MMI participants to their staff and continue to support the growth of every student gaining experience there. We look forward to our continued partnership.
The City of Clare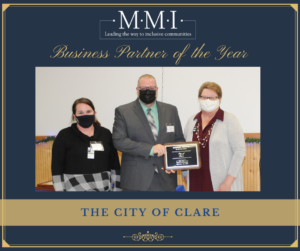 MMI has been fortunate to be a part of the Clare Community for over 35 years. Over the years, we have worked with the city on many projects. Our Partnership with the City has helped us effectively reach our goals in many areas.
This year, we moved our Clare location from an industrial area outside of town to the downtown area. This move fully supports the mission of MMI and makes more of the community accessible. In procuring the new location, we had the opportunity also to purchase the "First Choice Office Outlet," the store has become a fully functioning affirmative business enterprise. Giving people a chance to gain hands-on experience and interact more frequently with community members from Clare and surrounding areas. We were warmly welcomed to our new location by our partners from the city, who continue to look for new ways to create greater inclusion. Our staff and the people we serve have already made dynamic networks throughout the city; they look forward to coffee at the 505 or visiting the local library.
The Pere Marquette District Library, located in downtown Clare, opened its doors to our Employment Connections team over the last year, giving them a central location and a place to participate in financial literacy programs offered online by MSU extension. They were gracious and accommodating, taking time to connect with the people we serve and supporting and encouraging them to learn new skills.
As well as the support we've received in town, we appreciate the continued support we've received from the City of Clare Parks and Recreation department has been more than we could have ever hoped.  They have been valuable partners with our Youth program. They have been enthusiastic hosts to our Summer Work Experience students for the past two years. Joy Simmer has been instrumental in planning engaging and meaningful projects for students to complete over the summer. These projects provide students with a sense of accomplishment and will serve as a point of pride for those students for many years. These work experiences allow local students to gain skills and make new connections.
At MMI, we see a world where all people live a life based on their own choices and communities that maximize accessibility and inclusion. Partnerships like all of these show The City of Clare has a vision that aligns with ours.
Community Partner of the Year – 2021
MSU Extension of Clare & Isabella Counties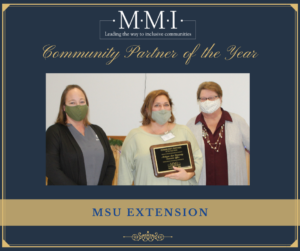 This year's Community Partner award goes to an organization that believes in empowering people by bringing the vast knowledge resources of MSU directly to individuals, communities, and businesses. MSU Extension of both Clare and Isabella counties have more than proven their commitment to their communities. By collaborating with both the Community Connections Team and the Employment Connections teams at MMI, they have expanded their reach and created a significant impact. They offer an environment that encourages people to grow. They value diversity and are willing to meet people where they're at and support them in moving forward. MSU extension serves as an excellent example of what inclusion should look like. They welcome the people we serve in Community Connections, who look forward to learning to cook new healthy recipes. Over the last year, they have gone above and beyond. They have provided financial literacy training to over 30% of the people in our Employment Connections programs over the last year. They were able to pivot with the team at MMI and offer Financial Literacy via ZOOM. This opportunity supported people in gaining skills and knowledge in terms of financial literacy and much-needed skills using technology—people participating used individual Ipads to connect with the instructor and others in the class. Learning to engage in a virtual format is critical in these times, and we are grateful for the flexibility and support from all the instructors at MSU Extension. The team there promotes independence and celebrates even small victories with MMI's participants. From learning new recipes to learning to manage personal finance via ZOOM, they are there to encourage and support. Their actions have helped each person who works with them gain confidence, learn new skills, and know what it feels like to be part of a growing community. We believe the opportunities that MSU Extension offers are a great way to learn more about yourself and your potential to grow and develop greater independence. They support the people we serve in doing just that. On behalf of the staff and our persons served, I would like to thank you.
Teagan Lefere has worked directly with the Employment Connections team in Clare County since the Spring of 2021. She played a crucial role in ensuring the success of our ZOOM classes and has been more than accommodating since we've returned to in-person courses. Thank you so much for being dedicated to creating more vital, more inclusive communities.
Above & Beyond Award – 2021
Joel Sneed
Joel is a Case Manager from Montcalm Care Network. He has worked closely with the Team at MMI's southern operations branch over the years to ensure that the highest quality services are provided. Joel is diligent in ensuring Person-Centered Planning meetings are individualized and personalized. He supports the people we serve in setting meaningful, measurable goals that will lead to personal growth. Joel stays closely connected to MMI and is willing to be flexible to the needs of our clients. He has remained supportive and helpful in the development of MMI staff and our services. Joel supports MMI's mission to develop inclusive communities and helps create and develop new opportunities for people to contribute and flourish. We want to thank Joel for all he does to support MMI and our mission.