MMI Star Spirit Award Winner
The Star Spirit Award is the MMI equivalent of an Employee of the Year award.   Nominations are submitted to the CEO and she selects an individual who contributes in unique ways to MMI's mission of "Developing inclusive communities and meaningful connections through employment and training." At MMI's "Employee Recognition Event" staff are recognized for their longevity and dedication for the previous year.
Amanda Lawson – 2019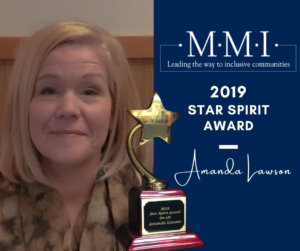 Amanda has worked in several roles since starting with the MMI team. She hit the ground running in her position as Communication Specialist.  She has revised the MMI newsletter to be a better communication tool for our staff and partners. She has made significant changes to the format and content we share on social media and our website. The agency has received many positive comments about the new content and the positive focus of the posts. She works very hard to ensure that MMI is well represented in the communities we serve. Amanda's values align with MMI's values and she shows her passion for our mission in all that she does.